and she is an idiot, too.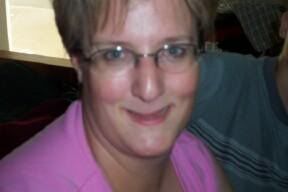 I don't have a list of 72,438 inside jokes with her like I do with my brother, the other idiot sibling. I'm not sure why. More than likely because she is 7 years older than me and didn't have time for such silliness when we were growing up. She was too busy trying to keep me from wearing her clothes and loaning her music out to my friends....neither of them ever to be seen by her again.
I was such an annoying little sister. And I know it. Now....because I have a daughter that takes my things never to be seen by me again. Karma. Ain't it grand.
But this photo is just one of a few handfuls of inside jokes I have with her. She's biting her upper lip. And I hate to admit it to the world but she is actually making fun of someone. This look of hers has been around sooooo long that I can't even remember *who* she is making fun of anymore.
And she won't remember, either. Because she's turning 50 today!
HAPPY BIRTHDAY, CHRISTIE!!!