If you have children younger than 18 (especially teenagers) that surf the net, what safety measures do you discuss with them about who they might meet on the internet?
I ask because I have failed miserably in setting a good example.
During my absence from blog-update duties I jetted off to Niagara Falls to meet up with some internet friends. *gasp!* I KNOW!! Now in my defense I had already met 2 of these ladies in person on previous jet-set adventures. (I told you I have failed miserably) but the third gal was a first-time meet-and-greet experience.
And these ladies are crazy. But not that physcho crazy that you would need to be wary of. But how do you know ahead of time? Until you get there? Again, failing by example.
This is Patti. Well, this is ME and Patti. But you already know who I am.
She is the hostest with the mostest. And I mean that sincerely. This woman parties and gambles so much at the casino that she is a VIP. That sounds charming, doesn't it? My Canadian, gambling, partying internet friend. But she is wonderfully delightful in every sense and allowed the 3 of us to follow her around as VIP wannabes. To be quite frank she spoiled us rotten even after we invited ourselves to come visit her. Yeah. You read that right. We were not ASKED to come but just showed up anyway. Patti treated us like the royalty we pretend to be.
And speaking of pretending to be royal.....this is Gina.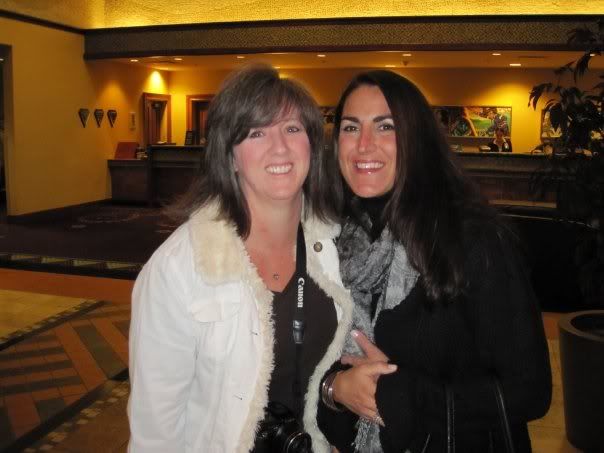 Well, this is ME and Gina. I'm on the left. You probably knew that by now. This was my first time meeting Gina. She got us in to trouble constantly. In her defense I think we probably encouraged her behavior a bit but I think doing gymnastics moves in the VIP lounge was totally her.
And this person is responsible for my gambling losses at the roulette table.
This is Cassandra. That is NOT me on the left. I am still wondering why it was so important for that Moose to be anatomically correct. Especially with children running around everywhere....or with adults running around everywhere acting like children. What? Well yes I DO happen to have a picture of us together!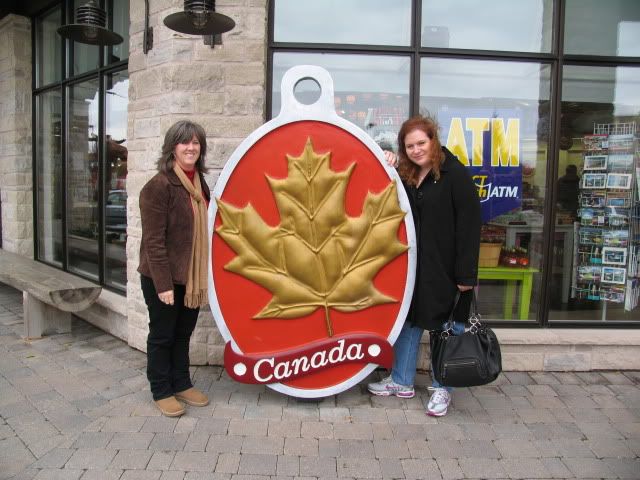 That's me on the left. Again. Must be some hidden compulsion I have.
Cassandra is from North Carolina and has a southern drawl to prove it. She's adorable, gracious and was kind enough to share snores with me. We laughed as we shared our nervousness that we WOULD be snoring (there was no doubt in either of our minds) so we made the perfect roommates. She loves Ice Wine. I mean really, REALLY loves her Ice Wine. So much so that she will beg random men in the hotel hallway to pop the very-stubborn-stuck cork in her Ice Wine bottle.
We do not know this man's name. Or where he was from. Or the name of his lady friend. But wasn't she nice to play along?
And what is a post about Niagara Falls without a picture of the Falls? Worthless, I say.
And Canada where Patti lives? I've never experienced Fall colors like this in my life.
We toured. We ate. We drank. We gambled. In fact, here is a picture of Cassandra and Patti with their winnings from the roulette table one night.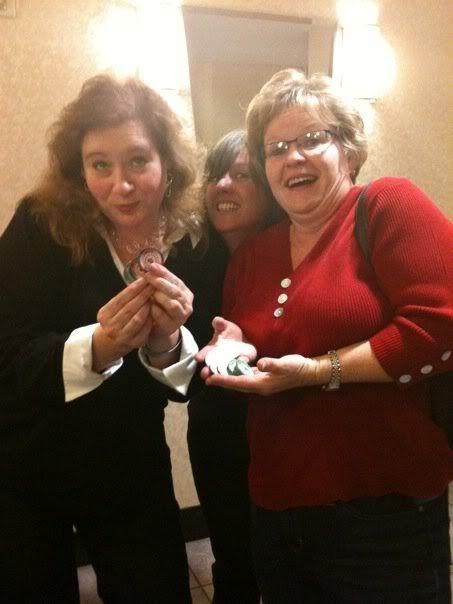 You will notice that I am not holding out my winnings for the picture. Because I didn't have any winnings. As a matter of fact, Patti was VERY excited to drag me over to a WIZARD OF OZ slot machine when we first got there. I'll talk about that in a separate post a little later. It IS worthy of its own post after all. It's WIZARD OF OZ, PEOPLE!
My trip was wonderful. It was a nice break from the normality of my feeble existence. I can't wait to meet up with these wonderful ladies again!