THE UPDATE:
This is Cloris....post surgery.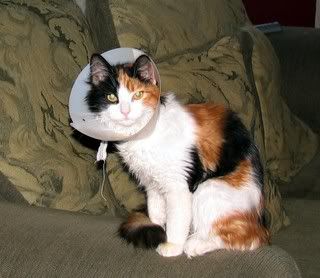 Doesn't she look happy?
Okay, not. But she's pretty cute, even with her pretty plastic surgical collar. This is what she looks like when she hasn't had surgery, looking too cute and cuddly. I'm sure she will be back to her normal self in 5-7 days.
And my TYPICAL DAY ?
Here's another not-so-happy face in the Pryor house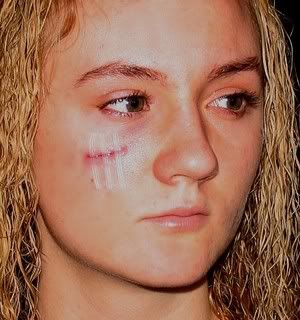 It started as this, as shown in a picture that was taken in the emergency room in Red Bluff at about 9:30 this morning on my cell phone:
I guess she just couldn't stand it anymore...all those men in the Pryor house landing in the emergency room with gashes, concussions, broken bones and burst appendix. She just had to have some of that glory for herself.
I thought she was going to puke when I looked at it, gushing blood (sorry, but that's what was happening, people) and told her it looked like she would need stitches. She went immediately pale and had to sit down, crying and sobbing that she didn't want stitches.
She has a fear of needles. An unusual, painful, ridiculously high fear of needles.
So you can imagine her relief that she only had to get glued back together....just like Humpty Dumpty, although she probably wouldn't appreciate that reference. But no stitches. No needles.
Oh? How did it HAPPEN? Well, Lindsay would like for me to tell you that some woman at the gas station was trying to jack her cool sunglasses from her and when she got in a scuffle trying to defend herself, the woman knifed her...and that Lindsay won and you should SEE the other woman. But the truth is she was putting her purse in the car and was turning to come back in my mom's house and didn't *quite* get out of the way of the corner of the car door. The very sharp corner. You know the one...it's similar to the corner of the trunk that many of you have probably whacked with the top of your head. Yeah. That one.
She likes the sunglasses reference better. Who could blame her?
And can you see that shiner under her eye starting to develop? Yeah. That injury is going to leave a mark. A nasty mark. A big, black/blue/purple mark on top of the lovely gash that is held together with steri strips right now. But the good news is that she probably won't have much of a scar. Barely noticeable.
I hope she gives up on this competition with the Pryor men. My blood pressure can't handle it.