Heaven just got the sweetest angel today. I'm not sure how someone whom you've never met in person can touch your heart so greatly, but this lady did it for me. She is part of an on-line scrapbooking community that I belonged to for years...left for awhile...and just recently joined again.
Her name was Janice Neilson. Does this smile just speak volumes about her?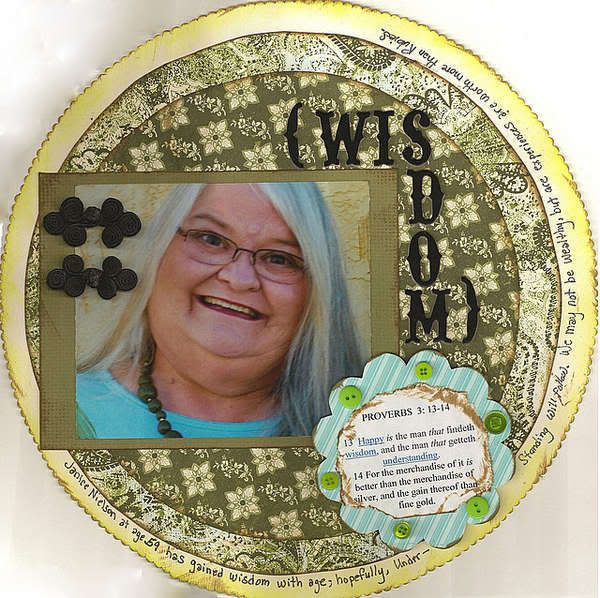 Seriously, her smile was infectious and her kind comments and encouragement were far reaching in that little online community. She was usually the first to welcome newcomers to the site and spent HOURS in the gallery, making sure to comment on each and every layout. She had 35,609 posts as her final count at Scrapjazz. And I wouldn't doubt if 34,276 of those were in the gallery. She loved to acknowledge the hard work each of us put in to our pages.
When I left scrapjazz for a little while, Janice was one of the individuals who I stalked via her blog. I lurked through her gallery for inspiration and ideas on my heritage photos. She was just one of those internet "friends" that was hard to step away from. Yes, she was *that* sweet.
See? Even she knew.
As sad as I am for the loss of this woman that I never got the chance to meet in person, I can only imagine the pain her family is feeling. She loved her family with all her heart and that came through in every layout she did. And as wonderful as she was in my world, I can imagine how wonderful she was to those who knew her personally.
Good-bye, Janice. You are forever part of our wonderful memories. May you and Jeannie scrap yourselves silly....