So we have two kitties. They are about 4-1/2 months old....time to get fixed. One is a pretty little Calico named Cloris and the other is a cute little orange striped tabby that we named Gertrude...Gertie for short.
Gertie LOVES Troy. I means LOVES him. She follows him around the house constantly just like a dog. He can whistle or snap his fingers and she runs to him. It's adorable. And she loves to sleep on him. And when I say "on him" I mean that literally.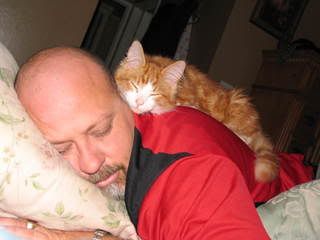 On Wednesday Cloris and Gertie go in for the big "snip-snip". They have to stay overnight and get shots and the whole big deal. But YAY for no extra kitties in the future. I feel like I'm slighting them somehow by not letting them become mothers, but then I think about when those kitties become teenagers and I know in my heart I'm saving them from something that will turn them crazy and mean.
So two females kitties. Four 1/2 months old. Appointments to get spayed. Check.
Uncheck. Because yesterday Gertie was cleaning herself and Troy noticed something unusual....something not "female-like". Upon further investigation he discovered that Gertie has testicles and a weiner. How did we miss this?
It's going to be an embarrassing call to the vet on Monday.
"Hello? Vet? Yes, I'm calling because my husband and I apparently don't know the difference between girl parts and boy parts. I need to have my orange tabby neutered...NOT spayed."
"Ummm....okay."
"And vet? Gertie is now Gordie. Please do not make any surgical decisions to make the parts match the name. Thank you and we will see you Wednesday morning."
Click.
Can you just hear the laughter on the other end of the phone? Yeah. Me, too.