My dear friend, Clare, turns some version of 40-something today.
5 years ago Clare and I walked a marathon. Yes, you read that right. We WALKED. *I* do not run or jog. But Karen wanted us to raise money for a wonderful cause,
Teams in Training
. Karen runs. Karen runs a lot. I do not. As luck would have it neither does Clare.
So we formed a little team of 2 and trained for 5 months.
While raising the money and helping out that wonderful cause was great and was our PRIMARY reason for joining, I think Clare would agree that the bonding experience became center stage. We laughed. A lot. We cried. We walked. We walked some more. And then we laughed some more.
Did I mention that we laughed? A lot?
That whole experience was just incredible. I don't remember the blisters or the shin splints or the sunburn or the fire in my muscles as much as I remember this stuff:
the catered hot tub breakfast from my husband
the Hello Kitty backpack focal point for Clare
running from the cops who were trying to bus us the last mile
getting caught making butt-squeeze gestures to a cyclist
laughing so hard I farted
laughing so hard we couldn't continue walking
turning *slightly* psychotic to get Clare to finish that damn marathon
apologizing to Clare for turning *slightly* psychotic
laughing about turning *slightly* psychotic

and
finishing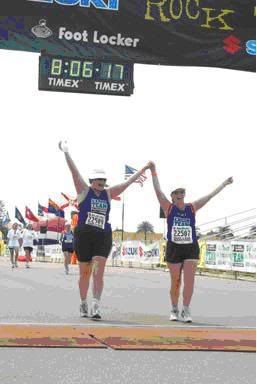 Happy Birthday, Clare! I love you!
(wanna do it again?)