You know the one. Pre-puberty. Jr. High. The time when zits find a home on your face and boys voices falter somewhere between being kicked in the groin and sounding like Barry White. Ahhh! Those are the fun times, eh? And about how long do you think your awkward phase lasted? A year? Two?
Yeah. Mine lasted seven.
I started out okay. At least I think so. I mean, look at this adorable face. It's anything but awkward!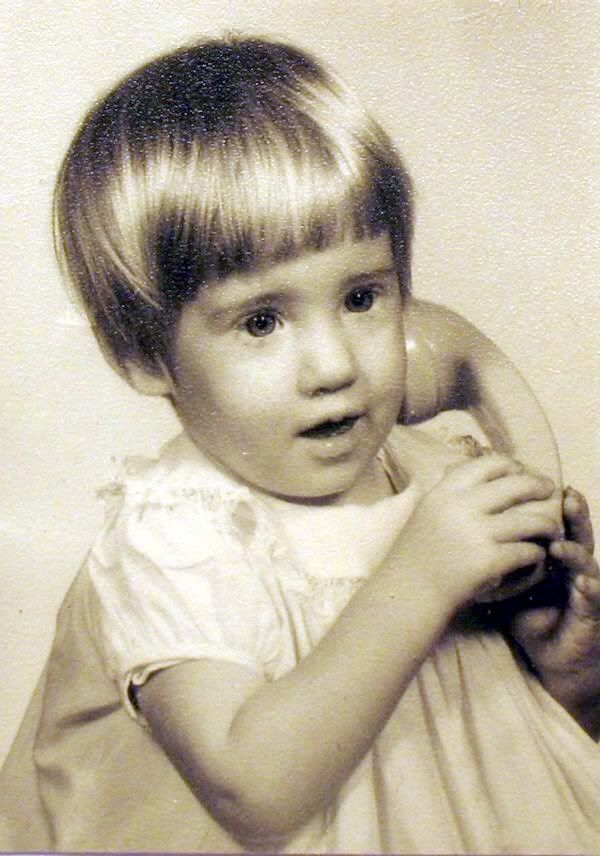 The phone in my hand should have been a sign to my mother of things to come. Seriously. I talk a lot. A LOT.
I went through the typical cute kid phase with my long hair (usually in pigtails) and blue eyes. I was an itty bitty thing (times change, people) and cute as a button. Then school started and I was just a cute little school girl.
Then I started losing my teeth. This is my 3rd grade picture and as you can see I'm still trying hard to hang on to that cute phase....my long ringlets, cute ribbon in my hair, sweet smile...and that hole? That hole where one of my front baby teeth used to reside? Yeah. That was the beginning of big trouble.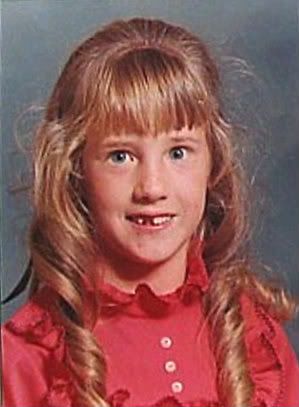 And then the trouble REALLY started. This is my 4th grade picture. Hair looking greasy and a beautiful zit taking up residence on my chin. Glasses now being a requirement ALL THE TIME. And those teeth. Good Lord Almighty! Those teeth!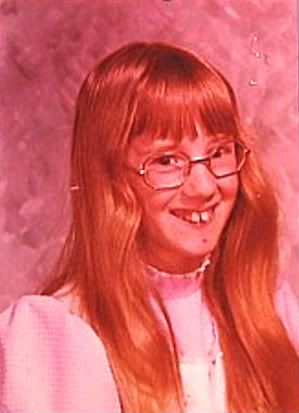 Then the next year I guess my mom decided that maybe a little more time spent on the hair and wearing this oh-so-cute homemade dress from my grandma would distract away from the two front teeth trying to run out of my mouth. Ummmm. I'm thinking that wasn't quite as successful as she planned. But how about that cool macramé necklace? Ooohhh. Ahhhh.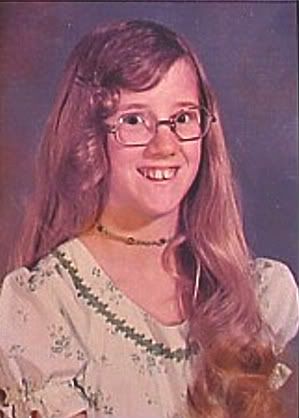 Okay. Well....hmmmmm....how about a hair cut?
Okay. So that's not so great either. But, hey!! I think a perm is DEFINITELY the answer. That would distract from those teeth for sure!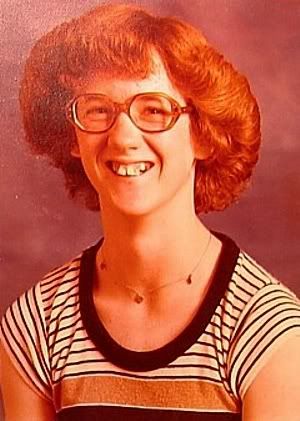 It distracted, all right. Now I just had some butt ugly hair to go with the marathon teeth. And now I had another nice tooth growing out of the side of my mouth, too. Nice. My awkward phase lasted just another year after this picture was taken....my freshman year in high school. Yeah. I was lookin' smashing hot entering high school. But then I got braces. Then I got contacts. And life got a little better.
I learned early on (I'm thinking around 5th grade) that I had better develop some kind of personality to off-set the awkward phase. Humor helped a lot. Laughing at myself helped ease the whispers and laughter from those around me. Oh, sure. I had some bad days that I would just throw myself in a heap on my bed, put on my Donnie and Marie album and have a good cry. (Yes, you heard that right. Donnie and Marie. What about it?) But overall I think I came out of it okay with the help of my real friends and through my faith. I mean, let's be real. How would a person like this get by in life emotionally without a little help from God?
When my kiddos were little and started losing their teeth, my panic kicked in to overdrive. I really didn't want my little ones to deal with the cruelty I lived through. So at the first sign of a permanent tooth emerging to take residence in the vacancy left by the baby tooth, I grabbed them and started peering in to their tiny mouth to access what was going to happen. I was fortunate that I didn't have to worry much about any of them. Nice, pretty teeth. Multiplied by three. Whew!
I wore braces for just under 4 years. Yeah. 4 years to fix that mess. And the hair? Well, I was a child of the 80's. The era of Aqua Net Hairspray, big permed hair and very tall bangs.
But that's another post.