As promised, albeit a little late (so sue me), here is the pictorial story of my annual decorating-the-mom's-house.
It's a big job. I'm not gonna lie. I would never be able to do it alone because there is a process of getting tubs out of the attic that takes more than one person. My brother used to be a part of this annual tradition. We had lots of fun, but oddly enough I discovered THIS year that he actually hindered the progress of this whole event. He would get sidetracked as he carried tubs in to the house and I would be left stranded in the attic awaiting his return. I usually had to yell his name out a couple of times....and he would magically reappear at the garage door.
This year I had my son, my daughter and her friend helping me. I pretty much completed the whole process in a day and a half.
So this is the start of it all. Me. In the attic. Grabbing Rubbermaid tubs to hand off to whomever is "lucky" enough to be helping.
And the lucky person this year was my son.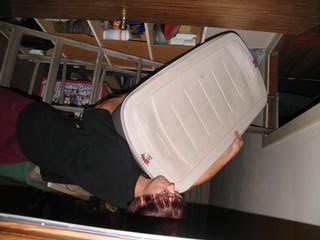 And once all the tubs are down....this is what I am faced with.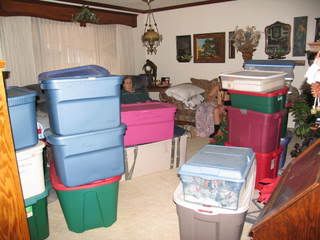 And if you look very closely at that picture, you can see my mom sitting amidst the rubble. In her chair. Where she belongs for this entire process. Hey! I have a method and it doesn't work if my mom wants to change things up all of a sudden. You know, like help me. No, I'm not a control freak. It's just that my mom....well...forget it. Just trust me. She's more help just sitting and enjoying it all come together.
Trust me, people.
Here was another helper...best helping by sitting in that chair looking cute.
Here's a picture during the unpacking/repacking process. Repacking? Yes. When you see the finished product you will understand that it is like moving my mother every year. Things have to be repacked to make room for the unpacking. Make sense? If not, catch up. I need to move on because these pictures are making me tired reliving it all over again.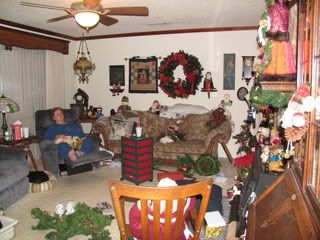 Here is Sashia, my daughter's friend, helping decorate the tree.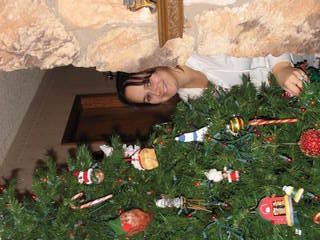 She helped decorate my tree, too. I got in trouble for moving a couple of ornaments to fill holes. I left my mom's tree alone...well, except for the ornaments they left when they got tired of the whole decorate-the-tree process.
My mom has a lot of ornaments, people. Like this dandy little number. I just had one question for my mother: Why?
We hung it on the tree. To be thrown away after Christmas. Maybe. If my mom doesn't catch me.
So after all the blood (literally...I scraped my hand) sweat and tears (I said I scraped my hand) these pictures are the final results of our labor.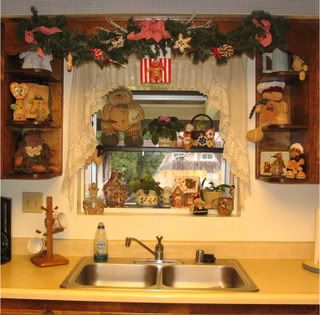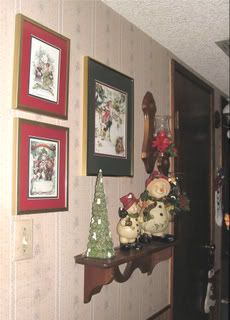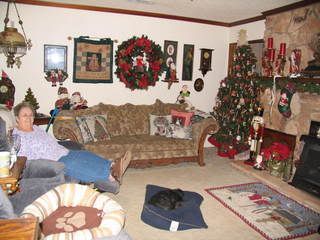 See my mom in that last picture? She didn't move the entire time. I'm joking. Sort of. She did get dressed out of her pajamas.
Now there are also some wonderful stories to go along with many of my mom's decorations. I promised my sister I wouldn't tell one of them. Oh, wait. I didn't promise. She just simply asked me not to. But she did turn 50 this year and probably won't remember asking me anyway.
So I give you the Triptych. This is the early works of my sister....who tolepaints BEAUTIFULLY....but wasn't *quite* there for this rendition of the birth of Christ. Notice the detail on the angels' eyes. Or lack of detail. They are really just black blobs. My sister loves this piece of art she created so many years ago. Not really. But my mom does. And so it gets displayed EVERY YEAR much to the dismay of my sister.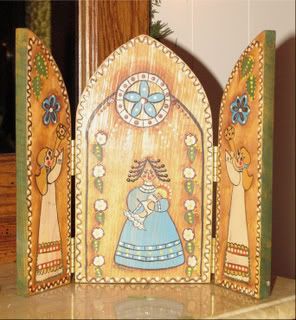 In all fairness, here are a couple of her other pieces.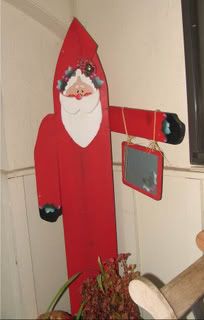 Another fun thing in my mom's house are the santa hats for the clocks. My mom has clocks. A lot of clocks. You can't really remove them from the decor for Christmas...nor would you want to...so we just decorate them all up. I'm not even sure who started this, but we are still using the original hats created for them. I think they are looking a tad ratty. We should probably make some new ones or spruce these up next year.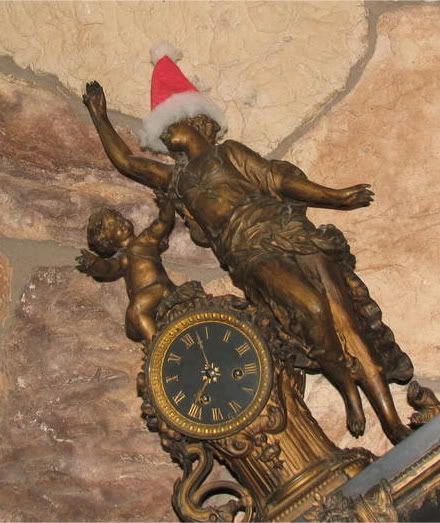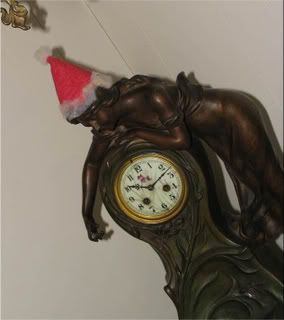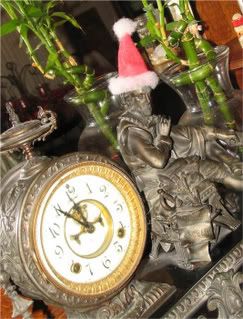 And there are just some things that will never be tossed. Ever. Despite their smell, condition, or sheer uselessness they will be around until the end of time. Or until they fall apart. And sometimes, as evident of the earlier photo of the ornament, even then they will still remain in my mother's stash of decorations.
This is one of those things.
This is a little, tiny santa box with matches in it. It has been around at least as long as I have. I always remember this little guy being around. He is handled with great care when packing him back up every year. He is tattered. But he is loved.
But these? THESE? They are coveted by me. I simply love them. If I was told I could only have ONE Christmas decoration in my house from now through eternity it would be these. They are packed in bubble wrap, newspaper and a flexible piece of styrofoam-like material. They will be mine when my mom is gone. This is understood. Well, by me anyway. And that's all that matters, right? Right.
Behold the Wisemen.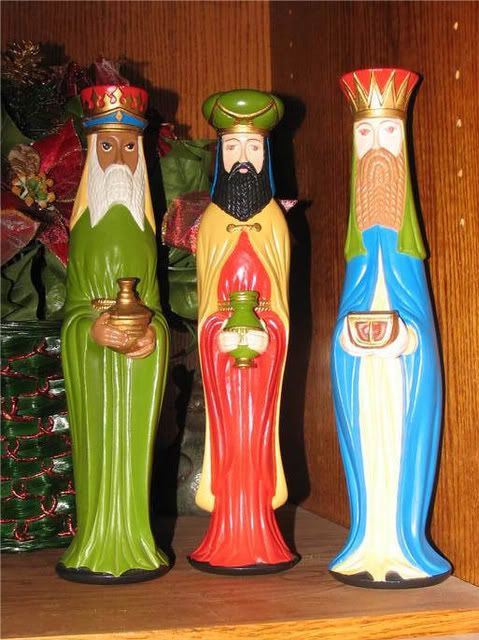 My mom made those guys YEARS ago. They are ceramic, handpainted, fragile, wonderful, beautiful and mine. Did I mention those will be mine? Yeah.
My sister can have her triptych. I'm taking the Wisemen.