in my house. Finally. It's only been 3 years since I put my decorations out, so rummaging through my Rubbermaid tubs and moving boxes was *like* Christmas! I had forgotten about so many of my wonderful little things.
Here is Troy's Nutcracker collection. I started a tradition with him about 10 years ago to buy him a Nutcracker when I was Christmas shopping. Some of them mean more and have a bigger story than others....but he loves them all.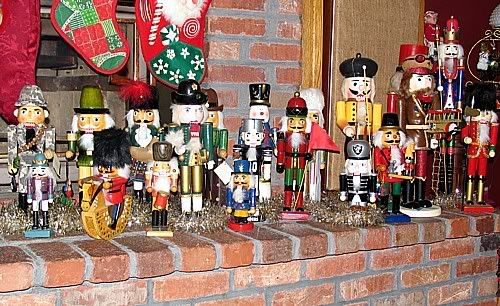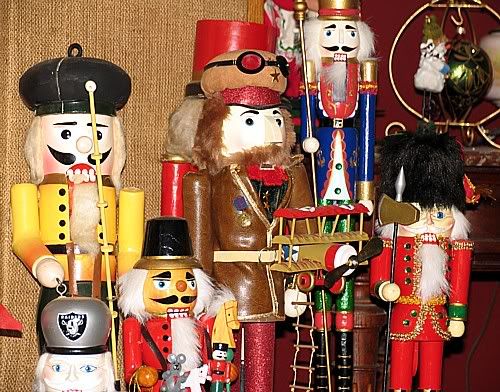 I suspect I may love these particular nutcrackers more than him. Maybe. Just maybe.
This is my newest purchase. I just love it. So much so that I bought one for my bff, Linda, too.
This is an older piece of the collection. I made him and he is about 3 ft. tall total...with about 1/2 of him being his hat and the other half being this face with his curly beard. I made him in my pre-scrapbooking days when I actually used to sew. With a sewing machine. Hmmm. Wonder where that dusty thing is?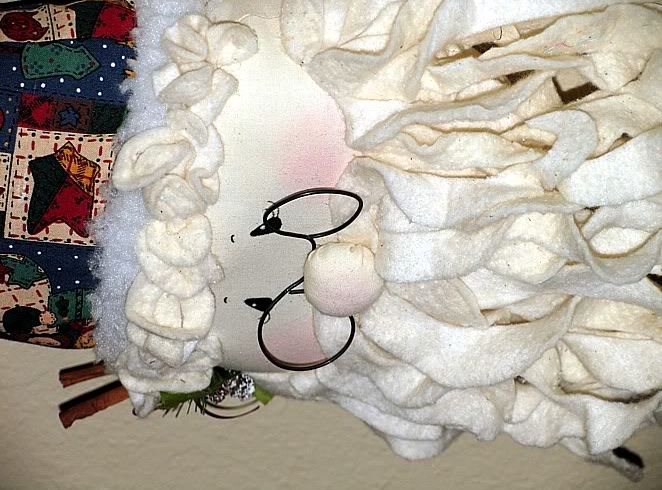 And no decoration pictures would be complete without the tree. Even though the tree itself is incomplete. Sort of. I'm missing a tub from all the moving. It contains, besides other things, my tree skirt and my angel tree top. But the Old World Santa will have to do for now....and the kitties would probably be dragging the tree skirt all over anyway.
As an extra side note, please pay no attention to the dark spot in the middle of the tree. It represents an area on the tree with non-functioning lights. We are going through them one-by-one. It's fun. But doesn't really lend to the Christmas spirit and attitude. So we're taking a break from it for now.
I have many more decorations, but I'll refrain from picture overload. Besides....I'm getting ready to leave in about an hour to go decorate my mom's house for her. And if you think I have a lot of decorations? Just wait until I upload pictures from her house. It's a job. 2 days. And it doesn't lend to the Christmas spirit and attitude while I'm in the middle of the job, but it does make my mom extremely happy to sit and look at all of it when I'm finished.
And that's all that matters.
More Christmas spirit next week!