Sooo....yeah,
this
post. I went on about my secret double life I've been living for the past year. Well, two years specifically if you count the moment my daughter left to live with her grandmother. One year as a part-time spouse to my husband who has been living up there with our daughter. Two years as a part-time parent to our ever-increasing emotional teenage child. (What teenager ISN'T?) She needed her mom, people. Bottom line? All the traveling back and forth is over.
No, I didn't find that elusive job.
No, we didn't sell the house.
We were all just tired of the situation. Very tired. VERY. TIRED.
My daughter started the ball rolling by having somewhat of a mid-teenage crisis (which is something like a mid-life crisis...without covering gray or buying a fast car....but with text messaging and MySpace and telephones and 3-way calls and boys. Ugh! Boys!) She just wanted to be one whole family living in one whole place. No more part-time anything. And deep down inside (well, not even deep down...it was right there in plain sight) I wanted it to be over, too. But I struggled with the idea of it all because of the school situation and the reasons we moved her up there to begin with. Even though I was tired of the situation I really needed to do what was best for MY CHILDREN. All of them. Not just my daughter.
But what was the best thing?
Troy and I weighed all the pros...then the cons...then the maybes...then the what if's...then back at the beginning with the pros. My husband made the final decision...because, frankly, I was just too emotional to be involved with it. I kept praying for a sign...an answer...some direction. I was driving MYSELF crazy going back and forth and back and forth andbackandforthandback... well, you get the idea. I'm sure I was driving my husband crazy, too. The answer to the prayers? The direction I finally got? The brick-in-the-face moment of "AH-HA!"? It came to me. Eventually...but not before I became a crazed lunatic wrought with emotion. I called my husband from work after crying all the way there and said, "I obviously cannot make this decision. It is not MY decision to make. You need to make it for us. Tell me whatever you want the family to do and I'll be okay with it."
"We're moving back to Sacramento." He wanted it to be over, too. So it was done. And I was immediately relieved and at peace.
So last weekend my husband, his father, his brother and myself took an entire day to load a 26 ft. UHaul with all the belongings we had in Red Bluff. Sore, tired and exhausted, he drove the 2 hour drive back to Sacramento with the UHaul while I stayed back to take care of a few loose ends. When he arrived, 5 teenage "men" took 1-1/2 hours to unload the entire thing while he fixed the air conditioning in my house.
Yes. 1-1/2 hours.
Yes. He had to fix the A/C in the middle of everything else. Chaos.
This is what my living room currently looks like: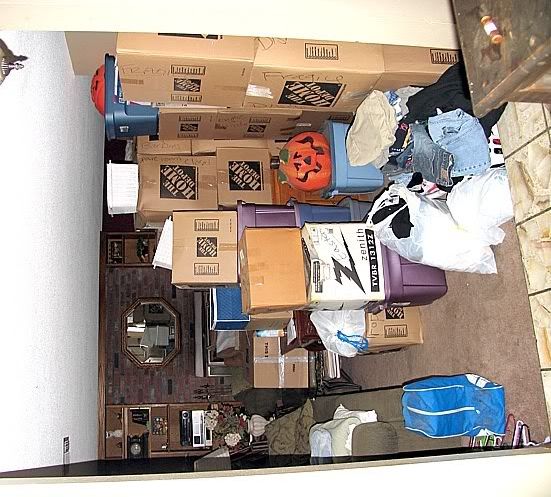 And this is what my dining room currently looks like:
Yeah. You can't even *see* my dining room. You can barely see my living room. See the couch? That's where my daughter is currently sleeping. There is no reason to show you my bedroom. Or my family room. Or my garage. (It's actually my husband's garage. Thank God.) Or my back yard. Or my.....well, again, you get the picture.
It's chaos. We can't move around. We can barely cook dinner. It's tight. We've had a few tense moments because of the chaos and basically living on top of one another. Emotions are running high.
Have I mentioned the chaos? Yeah. Those pictures frames will probably be ignored for awhile longer.
And you know what else? I'm the happiest I've been in 2 years. I'm sure the rest of the family will catch up.