I'm quitting the month of May. Yes, the entire month. Is that possible? Like, could I just take vacation for the whole month and have someone put me in a drug-induced coma and just skip it?
May is proving to be quite a challenging month for me. Year after year. Several large unhappy events have taken place in my life….the majority of them in May. My maternal grandmother died in May several years ago. On Mother's Day. Even better. My oldest child got himself in some trouble that proved to be the beginning of a long downhill slide. 6 years ago this weekend my husband got in a motorcycle accident that pretty much changed our entire lives. Last year in May my mom fell and broke her femur. She is still recovering.
And this May? It's not going to disappoint me. Well, it IS going to disappoint me. It already HAS disappointed me. My other grandmother passed away on…get this….Mother's Day. (What are the odds of that? Both of my grandmothers passing away on Mother's Day?) Although I wasn't particularly close with my Grandma-in-Arkansas (how we always referred to her) I do have a few fond memories of her when she came to California to visit and when my husband and I spent some time with her during our first year of marriage when we were living in El Paso, TX. Sadly, she had never met any of my children. Far too many excuses, but we just never did make the trip to Arkansas with all 3 children in tow.
This May we also get to deal with theft. Big Red has been violated.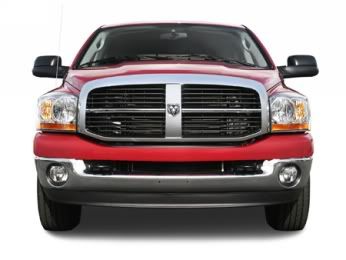 The only vehicle that Troy and I have ever bought brand new was stolen from in front of our house this past week. That thing has a Hemi. But don't fret….it was found! Of course, it was found jacked up on one side while crushing an ice chest on the ground on the other side since the wheels and tires were stolen from it. And the entire stereo system ripped from it's precious insides. And my personal space completely invaded and shattered. Fishing license, paperwork, lucky coin, keys to our travel trailer…gone. All gone.
Mean people just suck.
And so does the month of May. So let's just skip it. Who's with me?