I have a deep love for family pictures. They adorn my house in mass quantities. I don't have fancy art on my walls, nor do I have big fancy mirrors or other decorative elements. I have pictures of family. Children, parents, grandparents, aunts, uncles, cousins, etc. Generations of them. I love them all.
This is the bookshelf in my little scrapbook area. It houses all my paper, scrapbooking tools and other fun stuff dedicated to my hobby. So OF COURSE it should have family pictures on it. Right?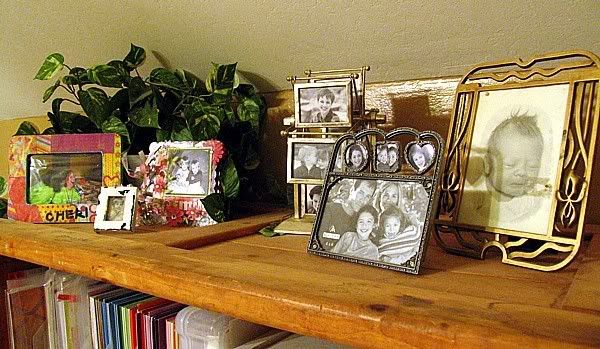 Isn't it pretty? I just love the homeyness of the whole thing. And there are my family pictures, proudly on display in frames given to me as gifts. Because people know I love my pictures. And they go in frames. It's a no-brainer kind of gift for me.
And see this one? This frame is one of my particular favorites. I got it for Christmas a few years ago. A few years ago. Years ago. YEARS. AGO.
Notice anything...umm...strange about this? In the lower left corner? Yeah. I have no idea who in the heck these people are. They came with the frame.
I'm sure my scrapbooking/photography friends will publicly flog me, then disown me.