these borrowed air mattresses and bedding, it's not over is it? It was so much fun. I haven't laughed continuously that long in a very long time. It was so fun getting to see everyone again...and meet new scrappers, too.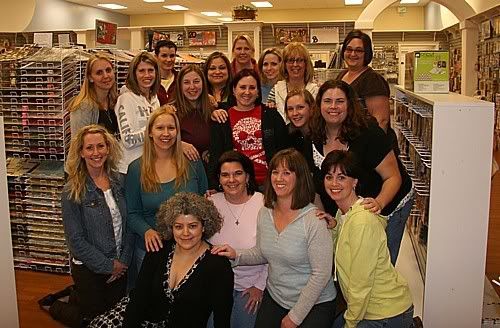 Big shout out thanks to the following gals that contributed to the wonderful weekend:
Patti S
....such an incredible woman! What a food spread Friday and Saturday. Love her!
Monika
....thanks for the food at my house and for bringing extra bathroom necessities. Sharing trips to the airport was awesome! Sorry about your run-in with the law. lol!
Stephanie
....Thanks for providing air mattresses (and my son is still sleeping with your blanket)
Deanna
....Another mattress provider and for staying up all night (well, except for that last crucial hour) on Saturday with me for that oh-so-early trip to the airport Sunday.
Theresa
...mattress and bedding supporter. And for sitting with me on Saturday!
Claudia
....your challenge was so fun and my little treat bag was awesome. I truly adore you. I'm in trouble after using your camera, though. I've got this *itch* .....
Noel
....AWESOME goodie bags! And I just peeked at your site....may have to join in on that challenge!
And to all the wonderful ladies who attended
...because without you Patti would have had way too much food. =)
I'll be seeing you all in cyber-land!