as a teenager. My middle child turned 19 today. You remember him, right? The dirty, greasy motorhead? Who doesn't know how to patch holes in the walls?
Yeah. Him.
Here he is contemplating the meaning of having one year left of his teenage years. One year of having the excuse of youth on his side. One year left of being on my medical insurance.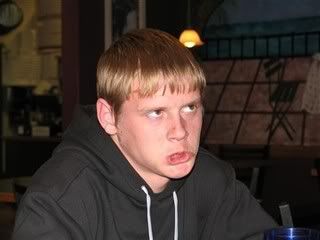 This look is the fear of one year left on my medical insurance. This is *the* child who needs to be on my medical insurance. Trust me on this. Remember the greasy, dirty motorhead? Yeah. He likes to have FAST greasy, dirty things.
I love this child. He is an independent thinker with big, lofty goals in life and he is determined to make them come true. He is also quite stubborn....just stubborn enough to make it all happen. Ahhhh....I'm sure there will be bumps in the road. It goes without saying for this Type A personality. But with all the greasy, dirty motorized FAST things he will fly over the bumps with ease.
Happy Birthday, Nathan! I'm so proud of you!
Mom