This is a picture of a pair of my favorite pants. Well, they were my favorite until today.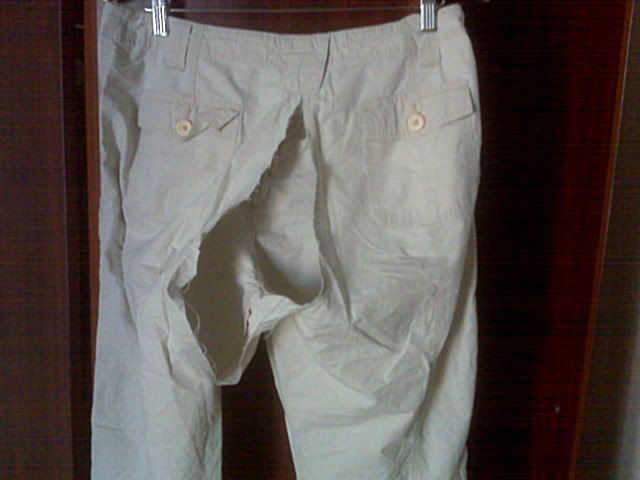 I'm not sure how well you can see this picture taken with my phone and I'm sorry there can't be a better one. My cell phone was the only camera I had available and this picture HAD to be taken.
You see, I'm traveling this week for work. I got on a big plane at the Sacramento airport and flew to Los Angeles. I then proceeded to the car rental terminal with my boss. MY BOSS. We approached this sexy red Mustang and I smiled with delight at how wonderful the ride to the office would be in this lovely beast.
The smile quickly disappeared and was replaced by shock and horror as I sat down on that beautiful leather seat and heard the most distressing of all noises.
RRIIIIIIIIIIIPPPPPPPPPPP!!!!!!!!!!!
"Holy Crap!! My pants just ripped out!" My boss laughed and continued to embark on our travel. I really don't think he appreciated just HOW ripped my pants were. But I could feel the leather on my skin. I knew it was bad. Titanic bad. And I began to wonder how in the hell I was going to get from the car in the parking lot to the building where we worked.
Because I had this problem....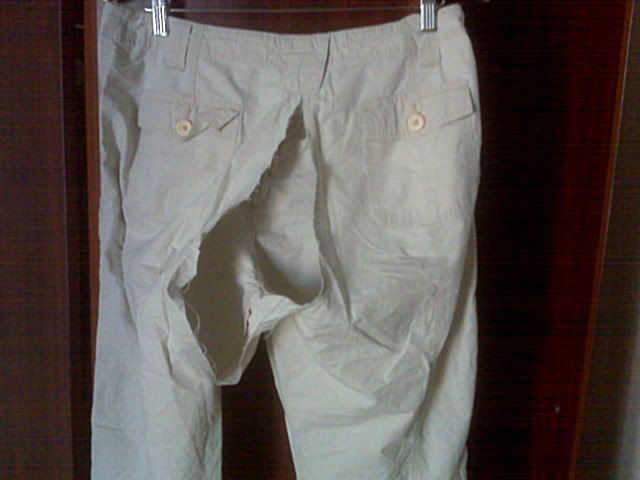 My plan quickly came in to development in my mind and I informed my boss that he was going to need to get my suitcase out for me once we got to the campus where our building was. My plan was to get something....ANYTHING...out of the suitcase and drape it around my waist.
Once we arrived and parked, my boss exited the car and I really took a good look at my pants. I quickly realized that NOTHING in my suitcase was going to cover the grand canyon of rips in this pair of pants. The natural air conditioning was just lovely but it was doing nothing to cool the heat I felt in my face.
Help me.
So the plan changed quickly. Very quickly. As my boss brought the suitcase to the side of the car, he mumbled "Mmm...Hmmm.." Yeah. Exactly. I promptly announced that I would be changing in the car. He promised he wouldn't look, but didn't say anything about keeping any passer-by lookie-loos from the windows. Oh, well. I've been in worse situations.
Like when this EXACT thing happened a few years ago. With co-workers. In the bowling alley during league. And I still had 2 games left to bowl.
Yeah. That's how my life rolls.
I'm very thankful for 2 things today: That the good Lord didn't let this happen while I was ON THE PLANE and....and....and the other thing? That I didn't have on my thong underwear.
You know, like that night at the bowling alley.