Very Best Friend In The Whole Wide World....get yourself one. I have one. And her birthday is today. I've talked about her many times on this blog but I could seriously talk forever and ever about her. We have a lot of history, people.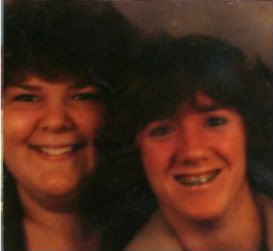 Linda and I met MANY years ago when I started going to the First Church of God youth group in the 5th grade. She was nice and sweet. We quickly became friends. It wasn't until High School, however, that we became best friends.
She is one of those kinds of friends who makes you want to be a better person. She loves God with all her heart, soul, and mind and lives life to serve Him. As a result she always has just the right words to say for every situation and does it full of grace. She doesn't always tell me what I *want* to hear, but she certainly tells me what I *need* to hear.
A best friend will do that because it is always in your best interest to hear what you *need* to.
But where was she when I was wearing these glasses? I really needed to hear that they were horrible. Even if it was just past the 80's. Seriously needed to go.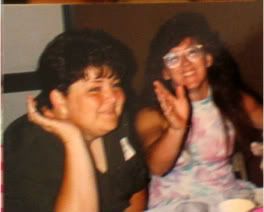 But she was *in* the picture with me...which means she wasn't ashamed to be seen with me and those awful glasses. That's the other thing VBFITWWW do. They love you no matter what horrible fashion statement you may be trying to make or how much Aqua Net you wear in your hair. Linda has certainly been with me through MANY a fasion statements...and I'm-going-to-die-if-he-doesn't-talk-to-me jr. high crushes. I can't even believe she still wanted to be my friend after the 7th and 8th grade. I had a new crush every week. I got sick of hearing myself. I can't imagine how tired she was.
Linda was with me as I became suspicious I was pregnant with my first child and survived my sour cream addictions. She watched me give birth to my middle child and chose my 3rd child's name had she been a boy. She has been a pillar of strength and wisdom through my trials of motherhood. She encourages me, prays for me and loves me.
She was my friend when I looked like this
Why *wouldn't* you want a VBFITWWW? Get yourself one. Today. Please.
I love you, Linda. Happy Birthday!!